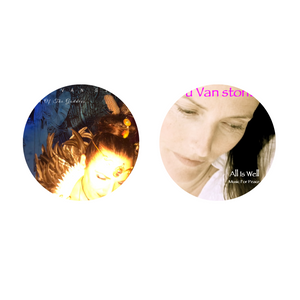 I hr 45 minutes, 2 CDs of soothing sound healing music to take you to a deep deep space of peace. Perfect for meditation, mindfulness, relaxation, yoga, massage, bodywork and much more.
Voice Of The Goddess is a powerful, musical soundscape to move, transform and transport you. Celestial, ethereal vocals and deep shamanic tones that will take you to other dimensions. Permeating each and every cell and leaving them dancing and vibrating with light. Summon up the Goddess energy within you. Perfect for meditation, relaxation, massage, yoga, reiki and all kinds of healing sessions.
All Is Well Transformative, celestial vocals and gentle instrumentation will transport you to a place of peace and contemplation, where 'All Is Well' in your world. Beautiful, soothing, celestial vocals merge with an ethereal soundscape to create a wonderful space to just be. The perfect soundtrack for meditation, relaxation, massage, bodywork, yoga and more.