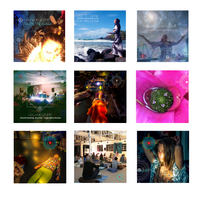 Lou's Soothe Pack
Three best selling CDs and over 8 hours of Sound Healing Downloads. Great value!
Add To Cart
Lou Van Stone Download Albums
Lou Van Stone Sonic Vibe Tribe Membership Subscriptions
What people are saying.

 "Lou's celestial voice connects me instantly to the realm of the angels. Truly truly beautiful. Lou's music is perfect for yoga, meditation, massage, finding inner peace and simply reminding me of my inner light and truth. Thank you Lou for bringing heaven to earth through your music." - Prem Williams 'Sacred Earth'
What people are saying

"I believe that once in every millennium, there comes forth a voice that can surpass all others and bring those who want to listen, closer to the Divine. Lou does that for me and many others". Paul Bulbert, Newcastle
What people are saying

"I wanted to share the huge impact Lou's albums have had on me. When I'm feeling agitated, rushed or time-pressured, I play Lou's music. I notice I feel a deep sense of joy, contentment and fulfilment. I become lost in time, even as if it has stopped existing for me. It is as natural as breathing, it is a song, a sound, a vibration that my soul and being recognises and welcomes". Laila, Intuitive Artist
What people are saying.
 "Lou's celestial voice connects me instantly to the realm of the angels. Truly truly beautiful. Lou's music is perfect for yoga, meditation, massage, finding inner peace and simply reminding me of my inner light and truth. Thank you Lou for bringing heaven to earth through your music." - Prem Williams 'Sacred Earth'
What people are saying
"I believe that once in every millennium, there comes forth a voice that can surpass all others and bring those who want to listen, closer to the Divine. Lou does that for me and many others". Paul Bulbert, Newcastle
What people are saying
"I wanted to share the huge impact Lou's albums have had on me. When I'm feeling agitated, rushed or time-pressured, I play Lou's music. I notice I feel a deep sense of joy, contentment and fulfilment. I become lost in time, even as if it has stopped existing for me. It is as natural as breathing, it is a song, a sound, a vibration that my soul and being recognises and welcomes". Laila, Intuitive Artist