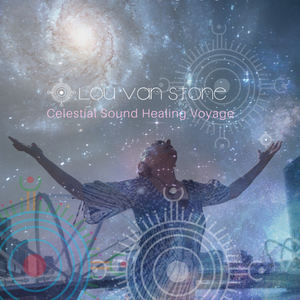 Experience a live recording of a Celestial Sound Healing Voyage. Feel the energy and travel with Lou on this sublime sonic journey. A completely unique experience as Lou channels conscious divine music from deep in the earth and high in the heavens and breathes it gently into you. A hypnotic and deeply moving musical experience, from which you will emerge transformed. What you may receive from the session:
More insight and understanding
Improved intuition
Clarity around issues in your life
A feeling of profound peace and relaxation
More restful sleep
Chakra balancing
Heightened state of awareness
Clearing of blocked energy
Shedding of old ideas and patterns

Sound Priestess, Lou channels from a divine source. This transcends singing, it is Sonic Surgery. Penetrating deep into your cells, leaving them dancing and vibrating with light. Her other-worldly music carries a potent healing frequency and has the power to move the listener to tears and inspire great insight and understanding. Ethereal and shamanic, Lou creates a lush landscape where you can rest, restore and awaken. All you need to do is lie down and prepare to be transported to another dimension".
Testimonial for Celestial Sound Healing Voyage
"Lou has shamanic power, guided by unseen forces and intuitive skill. I could feel the music profoundly in my energetic field and body. Lou's sound took me on a spirit journey that was deeply ancestral and reconnected me to an ancient bloodline. She sang me through visions I'll never forget, her tonal range reaching through earth and heavens".
Dani, Singer, Byron Bay, Australia